It's been an odd winter in New York, and a perfect time for a new Half Waif release. The weather boomerangs between warm and blizzard, never allowing you more than a week of wearing the same jacket. But it brings you to a middle ground – you find a coat that is warm enough to let you shiver to work but not so heavy that you have to take it off on a warm day. On Half Waif's newest EP, form/a, their first with stylish New York label Cascine, Nandi Rose Plunkett dances between warmth and ice constantly.
Last year's Probable Depths was a complex sometimes scary picture of the lonely, cold Western Massachusetts woods of Plunkett's youth with the occasional foray to tropical Brazil. This EP isn't a full-scale departure from those vast and varied scenes, but it also features moments of sun, little hints of heat on your skin. While Plunkett's voice is stronger than ever and featured slightly less processed than on Kotekan, it's the lyrics that features some growth from the last few Half Waif releases.
Plunkett has spent the last several years playing keyboards on and off in New Jersey's Pinegrove, whose lyrical style is much more conversational. After two albums there is finally a hint of this quality in Plunkett's writing. Pinegrove's Evan Hall writes in long off-the-cuff-sounding phrases, and while Plunkett mostly sticks to her more refined, gauzy poetry, some lines feel spoken instead of sung, like here in the excellent second single, "Frost Burn":
Early December in the country
trying to remember what my mother taught me
I was 14 when I had to learn what it meant to be an adult
It wasn't my fault.
Life can be painful and unpredictable. However, unpredictability can often lead to redemptive moments of discovery, which are exactly what Plunkett has set out to help us find on form/a.
"There's an inherent restlessness in the way that I write and think about sound," she explained. "I'm the daughter of a refugee, and somewhere in me is this innate story of searching for a home. As a result, I have many – a collection of places that I latch onto, that inspire me, that fuse themselves to me. I'm sentimental, nostalgic – yet constantly seeking what's next, excavating the sound of my past and coloring it to make the sound of my future. I'm a child of divorce, fiercely loved but forced into independence at a young age; I rocket into relationships with the desire to find roots, commonality, to create stillness in the midst of public noise. In this way, my songs are like the notes of a large scavenger hunt, clues pinned to trees I have known, or tucked under rocks on my path, urging the listener to keep looking a little deeper, because maybe they will find something special in the end."
Follow Half Waif at: Website | Facebook |  Twitter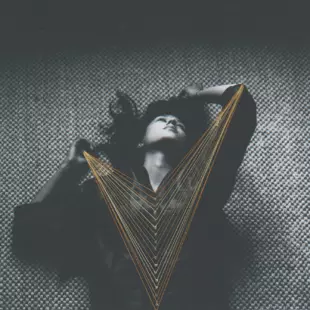 Share This Article On...
Follow The Revue On...